I was only going to do one post this week, but then when I woke up this morning this post began swirling around in my head.
If you're wondering what to bring with to Thanksgiving or wondering what to make a day ahead of time if you're hosting, I have a few dish ideas for you.
Pioneer Woman's Mashed Potatoes are THE BEST. The. Best. I only put in 1 stick of butter and just a few pats on the top, but other than that I follow her recipe to the letter. Find her recipe and step by step instructions here. You can make these a day ahead of time and just warm them up in the oven for a half hour the day of (mayhaps once the bird is out and gravy is being made & turkey being sliced). On a day like Thanksgiving where prep time is precious this is a
real bonus. If you're hosting this is a great dish to hand off to someone else!
Budget Bytes Cranberry Almond Cake is a real winner! It sounded interesting last year when she posted it so I tried it and I was blown away. I brought it in addition to pumpkin pie and it was really popular. I am going to bring it to both Thanksgivings (Corey & I double up on Thanksgiving) this year! Find her recipe and step by step instructions here. Make this a day ahead of time if you're hosting or bringing it with to your dinner.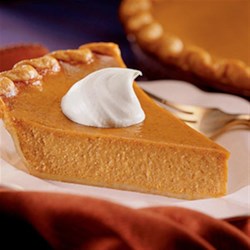 When it comes to pumpkin pie my mom and I always use the Libby's recipe off the can! It is so so good! Find the recipe here. You can use pre-made pie crust if you're not comfortable making your own. Make it the day before and pop it in the fridge until serving time. And it is really fun and easy to make your own whipped cream to go with it. Just buy some whipping cream, add a few tablespoons of sugar, and whip it up with your mixer. Wait as long as you can to make it, but it'll stay nice & fluffy surprisingly long with nothing special added in. It tastes soooo much better than the stuff in the can. And as long as you have a mixer (hand or stand) it's easy!
Happy Thanksgiving, Everyone!